Summary: This itinerary will take you to the most important archaeological site in South America: The "Lost City" of Machu Picchu. You will visit the main areas of the site and feel the force and energy found at this magical place. This itinerary includes everything needed to make this tour an unforgettable experience.
Duration: 1 day
Availability: All year
Price per person: US$ 307.00 (based on 2 persons)
Minimum: 1 person
Times: 03:45 am to 08:30 pm or 05:15am to 09:30pm
Meeting point: Pick up from hotel
Cancellation policy: 48 hours before the scheduled start of the tour
Itinerary:
Day 1: Cusco – Machu Picchu – Cusco
You will be picked up from your hotel at 03:45 am and escorted to the train station in Ollantaytambo, from where we will embark upon the 90-minute journey to Aguas Calientes. In Aguas Calientes, at 2000 meters above sea level, we will head for the bus terminal to begin our 30-minute trip up to the ruins of Machu Picchu. At the ruins, we will make a guided visit of the citadel, for around 2 hours. Back at Aguas Calientes, we will have time for lunch (not included). In the afternoon, we will return by train to Ollantaytambo. Upon arrival, we will travel by road as far as your hotel in Cusco, arriving at around 8:30 pm.
Private transfer from hotel in Cusco to Ollantaytambo train station (2 hours)
Train Ollantaytambo – Aguas Calientes
Bus up to the citadel of Machu Picchu
Entrance to the Machu Picchu archaeological site
Guided group visit to the Machu Picchu archaeological site for approximately 2 hours, in Spanish or English
Return bus to Aguas Calientes
Train Aguas Calientes – Ollantaytambo
Private transfer from the Ollantaytambo train station to your hotel in Cusco
Discounts
Discount for children aged 11 to 12 years: US$ 23
Discount for children under 11 years of age: US$ 85
Discount for children aged under 8 years of age: US$ 108
To take advantage of one of the abovementioned discounts, contact us directly before booking online.
Included:
Pick-up from hotel in Cusco
Transport in private vehicle from Cusco to Ollantaytambo (return trip)
Transport by train from Ollantaytambo to Aguas Calientes (return trip)
Transport by bus from Aguas Calientes to Machu Picchu (return trip)
Bilingual guide (in Spanish or English)
Entrance ticket to the Machu Picchu citadel (archaeological site)
Not included:
Food and drinks
Tips
Accommodation
Optional services:
How to book:
Select your departure date from the calendar.
Select the time.
Select the number of persons.
Select the optional services you'd like to add.
Select the language for your visit to Machu Picchu
Click on "Book now".
Pay online.
Once you have completed payment, the booking will be subject to confirmation according to availability. If you'd like to check availability before paying, write to us.
What to bring:
Original travel document (passport or other)
Comfortable clothing
Hat
Sunglasses
Sun block
Rain jacket or rain poncho
Canteen or sports bottle
Small daypack for the excursion (maximum 5 kilograms)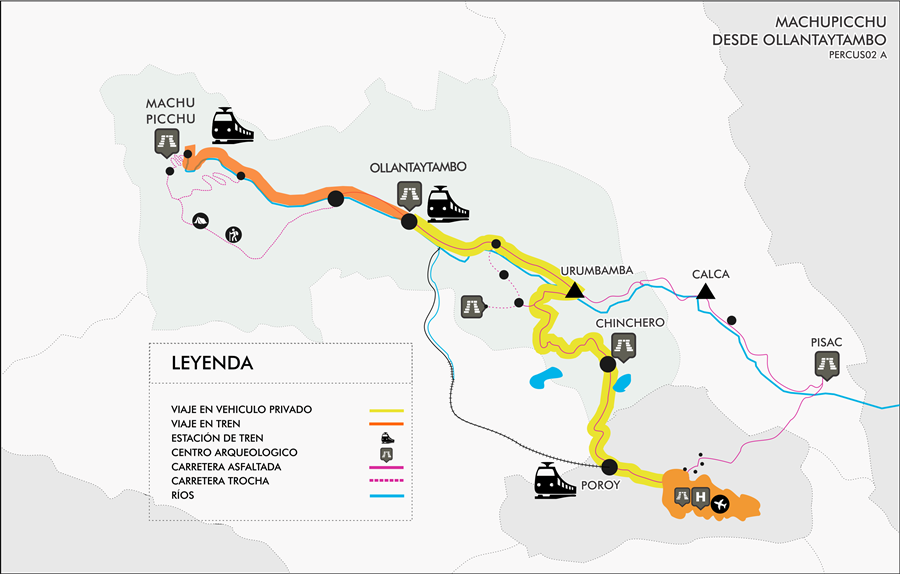 Frequently Asked Questions
How far in advance should I book the tour?
We accept bookings a minimum of 3 days in advance. However, spaces are limited and always subject to availability. There is very high demand for entrance tickets to the Machu Picchu citadel, and also for train seats. For some dates, these spaces are sold out many weeks in advance. Therefore, we recommend booking as far in advance as possible.
What is the difference between the Machu Picchu citadel, Machu Picchu mountain, and Huayna Picchu mountain?
What is popularly known as "Machu Picchu" is the Machu Picchu Historical Sanctuary, which is composed of different areas. These include the Machu Picchu citadel (the archaeological site or ruins), and two nearby mountains: Machu Picchu and Huayna Picchu
Can I take my luggage to Machu Picchu?
With each train ticket, passengers have the right to take hand luggage only (daypack or bag), weighing no more than 5 kilograms (11 pounds), and with maximum measurements of 157 linear centimeters (62 inches) (height + length + width).
Cancellation policy:
More than 48 hours before the scheduled start of the tour, the Hotel Arqueólogo will retain 40% of the total value of the tour.
Less than 48 hours before the scheduled start of the tour, no refund will be available.